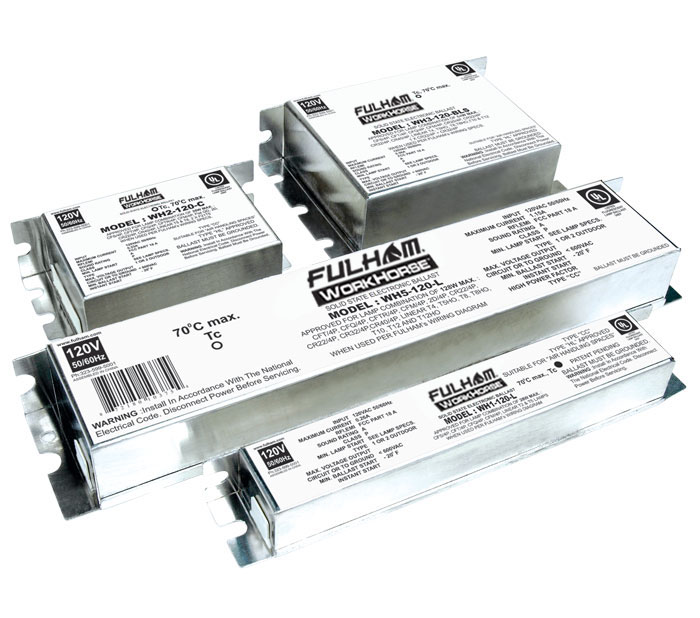 WorkHorse ballasts are expertly designed for maximum versatility. Dozens of lamp types can be operated in hundreds of combinations, so a contractor or electrician who carries WorkHorse ballasts can handle any situation without leaving the job site.
Versatile
Energy Saving
High Power Factor
Lightweight
Small Case Size
Solid-State Electronics
For lamp operation and wiring diagrams, use the Wiring Diagram Finder here, download the WorkHorse Lamp Chart here, or check the product spec sheets.
120V Models »
230V Models »
277V Models »
Technical Details
Common Specifications
ATHD: Meets ANSI C82.11-1993
Protection/Input
Over Current: Fuse
Transient Protection: C62.41 Class A 7 Strikes
EMI: FCC CFR Title 47 Part 18 non-consumer
Protection/Output
Open/Shorted Lamp
Regulatory Approvals: UL Listed Type1 or Type 2
High Power Factor: > .90
Open Circuit Voltage: 600 V RMS Max.
Ballast Lamp Starting Mode: Instant Start
Inherent Thermal Protection: Class P
Sound Rating A
Brochure
WorkHorse Lamp Chart and Wiring Diagrams
120V WorkHorse Ballasts
| Model Number | Input Voltage | Max Power (W) | Max Current (Amp) | Dimensions (Inches) | Configuration | Case Qty | Spec Sheet |
| --- | --- | --- | --- | --- | --- | --- | --- |
| WH1-120-L | 120V | 28 | 0.2 | 6 x 1 x 0.75 | Linear case, side leads | 90 | Spec Sheet |
| WH2-120-C | 120V | 35 | 0.33  | 3.3 x 1.75 x 1 | Compact case, side leads | 50 | Spec Sheet |
| WH2-120-L | 120V | 35 | 0.33  | 5.5 x 1 x 1 | Linear case, side leads | 50 | Spec Sheet |
| WH22-120-C | 120V | 35 | 0.32 | 3.3 x 1.75 x 1 | Compact case, side leads | 50 | Spec Sheet |
| WH22-120-L | 120V | 35 | 0.32 | 5.5 x 1 x 1 | Linear case, side leads | 50 | Spec Sheet |
| WH3-120-C | 120V | 64 | 0.56 | 3.8 x 2.5 x 1 | Compact case, side leads | 60 | Spec Sheet |
| WH3-120-L | 120V | 64 | 0.56 | 6.5 x 1.5 x 1 | Linear case, side leads | 50 | Spec Sheet |
| WH33-120-C | 120V | 64 | 0.53 | 3.8 x 3.1 x 1 | Compact case, side leads | 60 | Spec Sheet |
| WH33-120-L | 120V | 64 | 0.53 | 6.5 x 1.5 x 1 | Linear case, side leads | 50 | Spec Sheet |
| WH4-120-L | 120V | 70 | 0.56 | 6.5 x 1.5 x 1 | Linear case, side leads | 50 | Spec Sheet |
| WH5-120-L | 120V | 128 | 1.15 | 8.5 x 1.7 x 1 | Linear case, side leads | 50 | Spec Sheet |
| WH6-120-L | 120V | 140 | 1.04 | 8.5 x 1.7 x 1 | Linear case, side leads | 50 | Spec Sheet |
| WH7-120-H | 120V | 220 | 1.82 | 11.75 x 3.25 x 1.25 | H Can w/ magnetic footprint | 16 | Spec Sheet |
| WH7-120-L | 120V | 220 | 1.82 | 19.25 x 1.7 x 1 | Linear case, side leads | 25 | Spec Sheet |
| WH8-120-L | 120V | 220 | 1.8 | 19.25 x 1.7 x 1 | Linear case, side leads | 25 | Spec Sheet |
230V WorkHorse Ballasts
| Model Number | Input Voltage | Max Current (Amp) | Max Power (W) | Dimensions (Inches) | Configuration | Case Qty | Spec Sheet |
| --- | --- | --- | --- | --- | --- | --- | --- |
| WH3-230-L | 230V | 0.29 | 64 | 6.5 x 1.5 x 1 | Linear case, side leads | 50 | Spec Sheet |
| WH5-230-L | 230V | 0.57 | 128 | 9.5 x 1.7 x 1 | Linear case, side leads | 50 | Spec Sheet |
| WH7-230-L | 230V | 1.10 | 220 | 19.25 x 1.7 x 1 | Linear case, side leads | 25 | Spec Sheet |
| WH8-230-L | 230V | 1.01 | 222 | 19.25 x 1.7 x 1 | Linear case, side leads | 25 | Spec Sheet |
277V WorkHorse Ballasts
| Model Number | Input Voltage | Max Current (Amp) | Max Power (W) | Dimensions (Inches) | Configuration | Case Qty | Spec sheet |
| --- | --- | --- | --- | --- | --- | --- | --- |
| WH2-277-C | 277V | 0.15 | 35 | 3.3 x 2.3 x 1 | Compact case, side leads | 50 | Spec Sheet |
| WH2-277-L | 277V | 0.15 | 35 | 5.5 x 1 x 1 | Linear case, side leads | 50 | Spec Sheet |
| WH3-277-C | 277V | 0.24 | 64 | 3.8 x 3.1 x 1 | Compact case, side leads | 60 | Spec Sheet |
| WH3-277-L | 277V | 0.24 | 64 | 6.5 x 1.5 x 1 | Linear case, side leads | 50 | Spec Sheet |
| WH5-277-L | 277V | 0.48 | 128 | 9.5 x 1.7 x 1 | Linear case, side leads | 50 | Spec Sheet |
| WH6-277-L | 277V | 0.50 | 140 | 9.5 x 1.7 x 1 | Linear case, side leads | 50 | Spec Sheet |